Jason Berry – Director, Producer, Writer
www.jasonberryauthor.com
​
Jason Berry achieved prominence for his reporting on the Catholic Church crisis in Lead Us Not Into Temptation (1992), a book used in many newsrooms. He has been widely interviewed in the national media, with many appearances on Nightline, Oprah, ABC and CNN. USA Today called Berry "the rare investigative reporter whose scholarship, compassion and ability to write with the poetic power of Robert Penn Warren are in perfect balance."
Vows of Silence: The Abuse of Power in the Papacy of John Paul II, written with Gerald Renner (2004) has Spanish, Australian and Italian editions. The film won Best TV Documentary Award at 2008 Docs D.F. — Mexico City International Festival of Documentary Film.
Jason Berry produces documentaries and writes on culture and politics for many publications. Up From the Cradle of Jazz. a history of New Orleans music, reissued in fall 2009 has new sections on the cultural impact of Hurricane Katrina. His play, Earl Long in Purgatory, won a 2002 Big Easy award for Best Original Work in Theatre.
Mr. Berry produced a 2008 documentary, Vows of Silence, based on the book, which examines the Vatican's system of justice in the sex abuse crisis and had airdates in Spain, Italy and Ireland. He was co-producer of the 2014 Frontline film Secrets of the Vatican by producer-director Anthony Thomas. Jason Berry lives in New Orleans.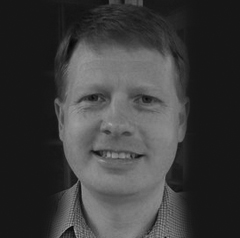 Tim Watson – Editor, Writer, Co-Producer
Tim Watson is a documentary editor, writer, and producer based in New Orleans. He has worked extensively with Berry, and was editor of Vows of Silence. Much of his work has been at the intersection of New Orleans music and social issues, working on films featuring Allen Toussaint, Henry Butler, James Booker, the TBC brass band, and many other musicians. His work has been seen on PBS, the Sundance Channel, HBO, the Documentary Channel, and other networks in the U.S. and Europe; and at many film festivals around the world.
He edited Cross Eyed (2021), was advising editor on Mossville: When Great Trees Fall (2019), was advising editor and editor of book content for Fess Up (2018), edited Everything Is To Be Continued (summer 2015); was advising editor for Big Charity: The Death of America's Oldest Hospital (2014); edited and co-produced Campo to B.C. (2014); co-edited and co-wrote Bayou Maharajah (2013); co-produced and co-edited The Music's Gonna Get You Through (2010); was supervising producer and co-editor for Bury The Hatchet (2010); co-edited Walker Percy: A Documentary Film (2010); edited Taste Of Place (series, 2010-11); did story development for and edited Vows of Silence (2008); edited Member Of The Club (2008); co-produced and edited By Invitation Only (2006); edited a documentary segment for HBO Comic Relief (2006); co-produced and edited A Player To Be Named Later (2005); co-produced and co-edited Desire (2005); edited and co-wrote Shalom Y'All (2002); and edited Ruthie The Duck Girl (1999).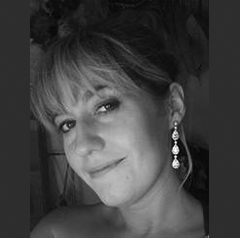 Simonette Berry – Co-Producer, UPM, Production Designer, Writer
www.simonetteberry.com | www.scenicartandcastingstudio.com
Simonette, a classically trained fine artist and writer from New Orleans, has a long background in sculpting, painting, and designing for film and television. Her film credits include: sculptor Capone (2020), a scenic artist on Underwater (2020), scenic artist on Claws: Season 2 (2018), sculptor/moldmaker on Geostorm (2017), scenic artist on Roots (2016), sculptor, moldmaker, and scenic artist on Terminator: Genisys (2015), lead sculptor on Into the Badlands: Season 1 (2015), sculptor and moldmaker on Maze Runner (2014), sculptor on Salem: Seasons 1 and 3 (2014-17), leadman and featured artist on Chef (2014), production designer and scenic artist on Bayou Tales (in post production), and others.
Her company, Scenic Art and Casting Studio, has created sets for Southern Rep Theater, the New Orleans Opera, Fringe Festival, the Marigny Opera House Ballet, and other theatrical productions and events. After many years as an artist in the field, Simonette now serves as Assistant Business Agent and Chair of the Board of Trustees for IATSE Local 478, representing film workers in Louisiana, Mississippi, and Alabama.
Before devoting herself completely to film, she wrote as a columnist and Assistant Editor at Louisiana Homes and Gardens Magazine, freelanced with other publications, and contributed to the book of post-Katrina essays New Orleans: What Can't Be Lost.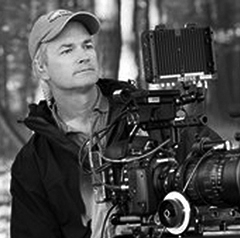 Harris Done – Director of Photography
Director of Photography Harris Done has worked in many genres over the past 25 years.   Most notable has been his long documentary collaboration with director James Moll.  Their work includes the 1999 Academy Award-winning Feature Documentary The Last Days for executive producer Steven Spielberg, as well as the Emmy award winning Inheritance.
The epic Running the Sahara, produced and narrated by Matt Damon, followed three ultra marathon runners across the African continent. Grammy winning Foo Fighters: Back and Forth, Price for Peace, Farmland and the upcoming OBEY, a biography of American artist and muralist Shepard Fairey, are recent projects of note. Done's other notable documentary D.P. credits include Above and Beyond,  Vows of Silence, From a Whisper to a Roar,  and the cult classic Trekkies.
In addition to his extensive cinematography work, Harris has also written, produced and directed several dramatic feature films including Purgatory Flats, Storm starring Martin Sheen and the award-winning Sand Trap.   He has also directed the documentaries War Dogs of the Pacific and Always Faithful.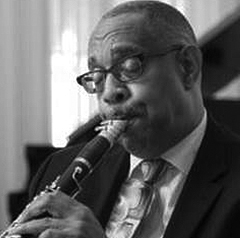 Dr. Michael White – Narrator, Composer; Jazz Studies, Xavier University
Dr. Michael White, clarinetist and composer in the New Orleans Style jazz, is a professor of African-American Music and holds the Keller Endowed Chair in the Humanities at Xavier University, New Orleans.White is a prolific recording artist who has performed in more than two dozen countries, made many national TV appearances, and given countless interviews. He is also a jazz historian who lectures on the tradition. Much of his early research dealt with his ancestor, Papa John Joseph, a musician at the dawn of jazz.
White's clarinet sound is distinguished by his roaming melancholy in the "widow's wail" during jazz funerals and the soaring lyricism in the "cutting loose" parade, releasing the soul from earthly ties. He has played with many important artists over the years, including Ernest "Doc" Paulin, Danny Barker, and George "Kid Sheik Cola" Colar. White's rich voice on clarinet is featured on recent recordings by several legends of popular music — Wynton Marsalis, Eric Clapton, Taj Mahal, Paul Simon, and Marianne Faithful. Throughout the 1990's Michael White recorded a variety of records with multiple record labels including 1992's New Year's Eve Live at The Village Vangaurd (Antilles).With the New Orleans label, Basin Street Records, he has released a string of works featuring his clarinet solos, A Song for George Lewis (2000), Jazz from the Soul of New Orleans (2002), Dancing in the Sky (2004), the post-hurricane Katrina reflective Blue Crescent (2008), and the two part Adventures in New Orleans Jazz, Parts 1 & 2 (2011, 2012).
Michael White has received many awards, including the Chevalier of Arts & Letters from the French government in 1995, the 2008 Heritage Fellow of the National Endowment for the Arts (the nation's highest award in the traditional and folk arts), the 2010 Louisiana Endowment for the Humanities Humanist of the Year. He also garnered a Jazz Hero Award 2015 from the National Association of Jazz Journalists; and the 2015 Deems Taylor liner notes award from ASCAP for the Smithsonian brass band CD that he produced, wrote the liner notes, and on which he performed, and composed a song.  Michael White has forged a distinguished musical legacy as one of the authoritative figures on New Orleans Jazz.​​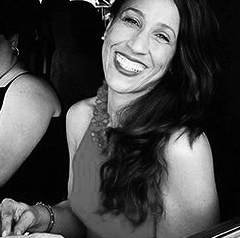 Deb Cotton – Associate Producer; Independent Journalist and Blogger, Gambit Weekly
When Deb "Big Red" Cotton moved to New Orleans before Hurricane Katrina, she wanted to write about food. With a background in journalism and union work in California, she had a hunger for life that pulls people to this disaster-prone city where the music never stops and politics is a wayward bus. "Big Red Cotton" became a Gambit blogger, covering the second line parades for Social Aid and Pleasure Clubs.
In 2007 she published Notes from New Orleans, a grand book with a voice to echo across time. Born in Los Angeles in 1965 to a black father and Jewish mother, Cotton spent her formative years in Oklahoma City with her father's family, reconnecting later with her mother in California; she graduated from San Francisco State. She converted to Judaism, her mother's faith. Jewish and black, scourge of bad politicians and champion of the second line, Deb Cotton was a life force.
"With each second line that rolled down Ursulines Avenue, New Orleans lured me from my dark brooding funk and tossed me into the fire of dancing Black folks and brass instruments bobbing down the street, burning, sweating, marching from one end of town to the other. This went on every week for months until one day, between the parades and sessions with my shrink and onset of Spring, I began to feel alive again. And the haunting images of dead floating bodies faded away," Deb said. "This is the beauty – and the problem – with living in New Orleans. At any given moment, life and death change places with each other when you least expect it."
During the now infamous 2013 Mother's Day Parade, Deb was one of 18 people hit in the crossfire of a gang shooting. After 36 surgeries, she stood in federal court, arguing for sentences to allow midlife rehabilitation for the brothers charged in the shooting. Her call for forgiveness and a policy to reach youth on edge gave life to the meaning of mercy in a Shakespearean sense, blessing she who gives and he who receives. An inspiring presence, she died in May, 2017 of residual infection.​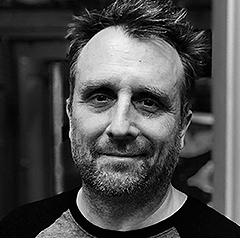 George Ingmire – Sound Mixer/Recordist
George Ingmire has been a media producer since 1999. He holds a B.A. in anthropology and a M.F.A. in film production, both from the University of New Orleans. He can be heard weekly on WWOZ (Wednesdays from 11 a.m. – 2 p.m. CST), where he programs the "New Orleans Music Show."  From 2008 to 2016, he produced internationally syndicated radio programs, "New Orleans Calling"/"New Orleans All the Way Live", about the music, food and culture of the Crescent City.
​In film, he has worked as a sound mixer/recordist for directors that include Spike Lee, Barbara Kopple and Harry Shearer, in New Orleans, as well as Haiti, Peru, Bahamas, Mexico and Columbia. His personal film work includes Think of Me First as a Person, an eight-minute documentary about a boy with Down Syndrome — one of only 25 films to be recognized by the National Film Registry (Library of Congress) in December of 2006.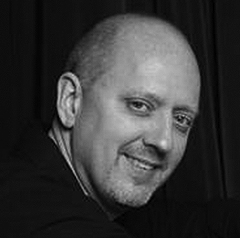 Jay Weigel – Score Composer
www.jayweigel.com | www.scoreneworleans.com
Jay Weigel is a distinguished composer, producer, conductor, arranger, orchestrator, and contractor for film, television, recordings, and concerts.  Based in New Orleans, he has worked in the film and television industry for over 30 years.  His recent scores and soundtrack recordings can be heard in the Warner Brothers films including, The Campaign, Green Lantern, Grudge Match, Get Hard, and Midnight Special; over seven of Tyler Perry's films and TV series Too Close To Home, including For Colored Girls, Meet the Browns, Madea Witness Protection, and Madea Goes to Jail; HBO's Little Britain; I Love You Phillip Morris, Bullet to the Head; and numerous documentaries and independent films.
He has worked as an orchestrator, conductor, contractor and/or score preparer for composers such as George S. Clinton, Christopher Young, David Wingo, Jon Swihart, Christopher Lennertz and Terence Blanchard.  As an arranger and orchestrator, he has worked with REM, Chris Thomas King, Judith Owen, and several projects with Hal Willner.  Weigel just finished producing a CD of music by Paul Sanchez. His concert work has been commissioned by numerous symphonies around the world, including the National Symphony Orchestra, the Kennedy Center, Louisiana Philharmonic Orchestra, St. Louis Cathedral, University of Southern Mississippi Symphony, New Orleans Jazz Orchestra, and the Acadiana Symphony.
Key Crew
Biff Pettingill, Executive Producer
Andrea Queeley, Voiceover Artist and Consultant
Monique Moss, Choreographer and Creative Director for the Congo Square Sequence
Alison Parker, Costume Designer for the Congo Square Sequence
Philip Braun, Videographer
Jake Springfield, Videographer
Crista Rock, Videographer
Sazerac Sound
Kyoto Color
Historical Advisors
Bruce Boyd Raeburn (Director of Hogan Jazz Archive, Tulane University)
Monique Moss (Historian, Choreographer, Professor of Dance at Tulane University, Creative Director of this film's Congo Square Reenactment)
Emily Suzanne Clark (Assistant Professor of Religious Studies at Gonzaga University)
Freddi Evans (independent scholar; author of Congo Square: African Roots in New Orleans)
Richard Campanella (Architecture/Geography, Tulane University)
William Ferris (Associate Director, Center for the Study of the American South, University of North Carolina at Chapel Hill)